Project Elf Dallas is a group of volunteers working to give a Christmas Season surprise to families or individuals who are transitioning outside of homeless shelters.
We sponsor individuals or families for a home makeover, and sometimes also target a large group in the homeless community with a Christmas gift of much needed necessities to help get back on their feet.
This makeover is no small feat as this event happens in a SINGLE DAY. our Elves are busy collecting furniture, hanging curtains, setting up beds, filling closets, obtaining toys, filling cupboards and stuffing stockings - all through DONATIONS and community support from you!
December 2017 Makeover - 5 Kids and Mom
This year's recipient of the Project Elf Dallas endowment in kind is Samantha Stoker who is the mother of 5.
Samantha has gotten out of the shelter but relies on two-part time jobs and earns vouchers with Vogel Alcove and is working very hard to transition her family out of the homeless shelter systems. Samantha currently works two part-time jobs and shows a lot of ambition to save for the future, which is evidenced by her tax refund this year. She thought it more practical to save up to pay 4 months additional rent instead of buy extra furniture or clothes for her family. This shows a real sense of how much Samantha wants to remain out of the homeless shelter system and provide for her family.
Other evidence of this is the car which she saved for and paid for in cash through a program called On The Road Lending.- we love this organization!
There is quite a bit a client must go through before getting a car, much of which involves financial literacy programs and learning how to save properly and make good financial decisions. When she came out of the program, she had saved $1000 to go towards a car. The seller wanted $1500. Vogel Alcove got involved and provided Samantha training on negotiation skills. Samantha negotiated the price of the car, down to $1000 and paid cash. This lady has what it takes to be successful, lets help her!
Samantha is also part of the Family Gateway Program, which Vogel Alcove is a partner with among many others. Like Vogel Alcove, Family Gateway helps families successfully transition from homelessness into homes through stability and support.
The picture her support team has painted is that of a great mom, motivated to continue to improve her life by whatever means, doing it all with integrity along the way. Samantha recently attended a Head Start partnership event at the Texan Gaylord as a representative of Vogel which is a huge honor for someone in the process of leaving homelessness and a very positive sign that this will be a permanent move to private housing.
***UPDATE***
Samantha and her and her 5 kids where scheduled to move into a 4 bedroom townhome in early December, 2017. Due to circumstances beyond her control and to the family's later good fortune, this was delayed. The Stoker family has since moved to a wonderful house in Heartland, TX.
WE WANT TO THANK EVERYONE THAT MADE THE STOKER FAMILY'S MAKEOVER SUCH A HUGE SUCCESS. WE COULD NOT DO IT WITHOUT THE GENEROSITY OF OUR SPONSORS, ALL THOSE THAT DONATED, AND ALL THOSE THAT ATTENDED OUR FUNDRAISERS.
YOU, can help make these makeovers the best makeovers for every family we help, year round, by donating through our PayPal link below.
We thank you for your continued support!
Season's Greetings and Best Wishes,
Project Elf Dallas Board of Directors,
Brian Johnson, Rachel Goniwiecha, Amy Poorman, and Ian Torok
December 2015 - Home Makeover for Single Dad and 7yr Old Daughter
This year's makeover recipient is Michael (25) and his daughter Faith (5). They fell into hard times after his divorce and steep student loans. After being in Dallas Life shelter, he found he wanted a better life for Faith right away. They have a 2-story 2-bedroom apartment home with no furnishings.
We had an amazing team of volunteers and a lot of pre-work prep to pull off our most efficient and beautifully designed makeover yet! Michael and Faith enjoyed a day away while the Elves were hard at work - they went to the zoo, breakfast, and shopping at Target to buy each other Christmas gifts.
There was a team of Elves in the living room setting up sofa, tables, pictures, t.v.s , hanging artwork, and decorating the Christmas Tree. Other teams were assigned to bedrooms, bathrooms, kitchen, and miscellaneous help. We'd like to thank Codarus for the design help and collaboration. Take a look at the amazing transformation. We appreciate all of your donations, encouragement, caring, and support for these makeovers.
December 2014 - Home makeover for Single Mom and 4 yr. old daughter
For this amazing project, we chose Iesha and Tariah and their 2 bedroom apartment just outside of Downtown Dallas. With a team of 20 volunteers and just 5 hours, we gave them a fully furnished apartment complete with new beds, dressers, a full living room, kitchenware, 2 decorated bathrooms, and a Christmas tree loaded with presents for their holiday. While we decorated, Iesha and Tariah made a day of it at the Perot Museum of Natural History and lunch at El Felix.
December 2013 - Fundraising Donation to Vogel Alcove
This particular year we chose to use our Fundraising donations as a complete gift dedicated to Vogel Alcove. Here's our presentation of the gift cards to the wonderful staff and kids!
December 2012 - Home Makeover for the Roblez Family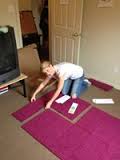 October 2012 - Garage Sale to Raise Money for our December Project
November 2013 - Elves in the Workroom
December 2013 - $5000 Donation to Vogel Alcove of Dallas